Right now Kraken of of big crypto exchanges is still out of service after system update annoucement.
People are asking whats happening and going angry, because to be 33 hours (right now according coinmarketcap.com stats) out of the market can cause big loss in the cryptocurrency market which never stop.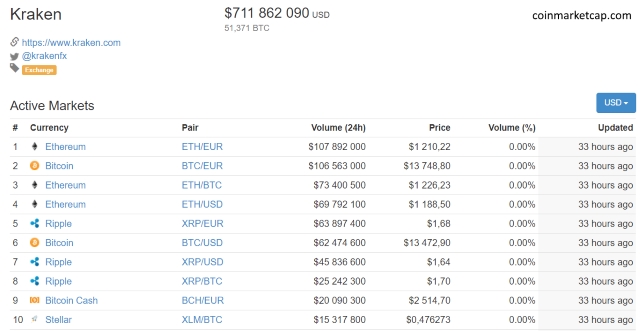 Current Kraken updates follow:
Update
We are still working to resolve the issues that we have identified and our team is working around the clock to ensure a smooth upgrade.
This means it may still take several hours before we can relaunch the site.
Posted about 4 hours ago. Jan 12, 2018 – 12:05 UTC
Update
We are still working on the upgrade and may be offline for several more hours. Will provide another update when we get closer to coming back online.
This means the Site will not be up after 9:00AM UTC (1:00AM PT).
Posted about 8 hours ago. Jan 12, 2018 – 08:00 UTC
Update
We are close but rather than launch immediately ahead of the team passing out, we will push off a bit to get some rest and be able to better monitor systems and react to problems following launch. Unfortunately, this means several more hours of delay. We do not have a definite time but it will not be before 9:00AM UTC (1:00AM PT).
Posted about 13 hours ago. Jan 12, 2018 – 03:46 UTC
Update
Thank you for your continued patience while we work through these unexpected and delicate issues. We are continuing to make progress but don't have a specific timeline for relaunch at the moment.
Posted about 13 hours ago. Jan 12, 2018 – 03:11 UTC
Update
Inching our way to the finish line over here, devs mainlining coffee. Funds are all secure and protracted downtime has nothing to do with funding/reserves. Yes, this is our new record for downtime since we launched in 2013. No, we're not proud of it. Working hard to ensure that when we come back online things are running as smoothly and safely as possible. We'll give you another update in a few hours or as soon as we have something new to report.
Posted about 16 hours ago. Jan 12, 2018 – 00:43 UTC
Update
We are making progress on the few remaining issues but don't have a definite launch time yet. We intend to cancel stale (and possibly all) orders and pause liquidations upon resuming service. More details to follow soon. Thank you for your patience.
Posted about 19 hours ago. Jan 11, 2018 – 21:41 UTC
Update
We are currently working to resolve a number of issues that came up during final testing. At this stage it is uncertain when exactly these issues can be fixed, but we will update again when a more definite ETA can be given.
Posted about 21 hours ago. Jan 11, 2018 – 19:07 UTC
Update
In the final stage of installing the upgrade now. We are getting close but hard to give an exact ETA since it depends on how the final testing goes.
Posted 1 day ago. Jan 11, 2018 – 15:27 UTC
Update
The upgrade is going much more slowly than anticipated. It will probably be two hours or more until systems are back online.
Posted 1 day ago. Jan 11, 2018 – 12:14 UTC
Update
We are still working on the upgrade and may be offline for another hour or more. Will provide another update when we get closer to coming back online.
Posted 1 day ago. Jan 11, 2018 – 10:01 UTC
Update
We got a late start and the upgrade is moving slower than anticipated. We now expect to be able to bring services back online by Thursday, 10:00am UTC (2:00am PT) but will keep you updated as we get further in to the process.
Posted 1 day ago. Jan 11, 2018 – 07:34 UTC
In progress
Scheduled maintenance is currently in progress. We will provide updates as necessary.
Posted 1 day ago. Jan 11, 2018 – 05:00 UTC
Scheduled
We are performing a system upgrade on Thursday, January 11 at approximately 5:00 UTC (Wednesday January 10 at 9 pm PT). Kraken services will be offline for about 2 hours during the upgrade, possibly longer. Withdrawals in all currencies will be offline for an additional 2-3 hours after other systems come online. If you submit a withdrawal request while withdrawals are offline, the withdrawal will be sent after withdrawals come online again.
Posted 2 days ago. Jan 10, 2018 – 21:59 UTC
Updates you can find HERE